Roof Replacement Chesapeake VA
If your roof is old or damaged beyond repair, we are here to help. Contact Gilpin Roofing today for an affordable Chesapeake, VA roof replacement.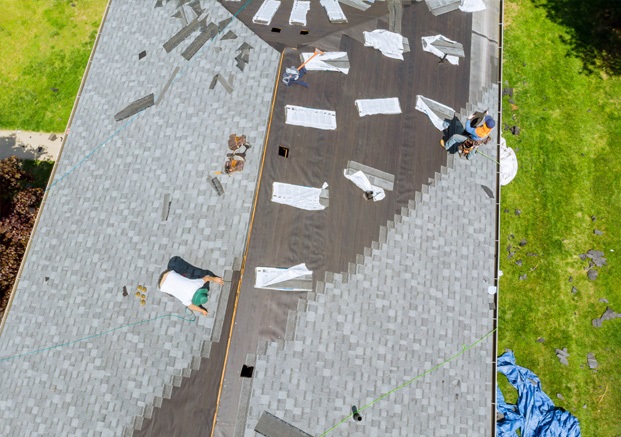 Roof Replacement Chesapeake VA
Reliable Roof Replacement Chesapeake VA
If your roof is old or damaged beyond repair, we are here to help. Contact Gilpin Roofing today for an affordable roof replacement in Chesapeake, VA.
Upgrade Your Asphalt Roof in Chesapeake Today
If your original roof shows signs of wear or has sustained damage, it may be time to consider a roof replacement. At Gilpin Roofing, we understand that your roof is crucial to your home. That's why we are committed to providing high-quality roofing services tailored to your unique needs and budget. With over 21 years of experience, we have the knowledge to handle roof replacement projects. Whether you want to upgrade your asphalt roof or switch to a more energy-efficient material, we have you covered. Contact us today to schedule a free consultation for all our roofing installation services in Chesapeake.
Types of Roofs We Install
We install a variety of roofing materials, including asphalt and architectural shingles, so there is something for every home. Learn more about some of the roofs we install.
Asphalt Roofs
Asphalt roofs are the most common roofs in the United States. They are affordable, durable, and versatile, making them a great choice for many homes and budgets. They are also easy to repair and maintain.
Architectural Shingles
Architectural shingles are a popular choice for homeowners who want to improve the appearance and durability of their roofs. These shingles are thicker than asphalt ones, offering improved wind resistance and longevity. Additionally, architectural shingles come in various colors and styles. This makes it easy to find shingles that complement your home's exterior.
Commercial Roofing
In addition to our residential roof replacement services, we also work with business owners to provide expert commercial roofing solutions. We will work with you to find the most cost-effective solution for your business.
Why Consider Roof Replacement at Your Home?
You should consider a roof replacement at your home for many reasons. Keep reading to learn more.
Boost Curb Appeal
A new roof can drastically upgrade the appearance of your home's exterior. Whether you opt for traditional asphalt or architectural shingles, your new roof will enhance your curb appeal and make your home stand out in your neighborhood.
Improve the Value of Your Home
A new roof can also improve the value of your home and make your home more attractive to buyers. This can lead to a faster sale and a higher sales price. This allows you to recover most or all your investment.
Make Your Home More Energy Efficient
Old or damaged roofs can drive up your heating and cooling bills. A new roof boosts your home's energy efficiency by providing better insulation and ventilation, which can help you save money on your energy bills. This also makes your home gentler on the planet.
Reduce the Risk of Damage
A new roof can also reduce the risk of damage to your home's interior. Leaks and water damage can cause extensive and expensive repairs. A new roof will provide better protection against water intrusion and give you peace of mind knowing your home is secure.
Newer Warranty
Most roofing manufacturers offer warranties ranging from 20 to 50 years. With a new roof installation, you'll have a warranty that covers defects or issues with the materials used to install your new roof. In addition, we offer a 25-year service warranty on all our jobs.
Family Owned and Operated for 21+ Years
Gilpin Roofing is proud to be a family-owned and operated roofing company. When you choose us for your roof replacement needs, you can trust that you'll receive the highest level of craftsmanship.
We Offer Affordable Financing
We believe that families in Chesapeake should have access to quality roofing services. That is why we offer affordable financing options to help you pay for your new roof over time.
GAF Installation Pros
At Gilpin Roofing, we are committed to quality. That is why we use GAF roofing materials for most of our roofing jobs. GAF is known for its innovative, durable, and energy-efficient roofing materials. These materials are designed to handle Chesapeake's robust hurricane season and anything else nature throws at them.
How Our Roofing Replacement Services Work
Step 1: Request a Quote
Contact us today to request a free quote for your roof replacement project. Our team will visit your home to assess the condition of your roof and provide you with a comprehensive quote for the work.
Step 2: Choosing Your New Roof
If you want a new roof, our team will help you choose the suitable materials for your home. We offer various options, including asphalt shingles, architectural shingles, and more.
Step 3: Fast Installation
We will work quickly to install your new roof so you can return to your day. Many installations take just a few days.
Step 4: Enjoy Your New Roof
Once the installation is complete, we'll conduct a final inspection to ensure your new roof meets our high-quality standards. Contact us today to get started.
How Much Does Roof Replacement Cost in Chesapeake?
If you are considering a new roof, one of your top concerns might be the project's cost. However, a new roof can often help you save money in the long run and might cost less than you think. New roofs are more energy efficient, and your repairs will likely be covered under warranty. Contact us today to find out how much you can save.
Protect Your Home and Family Today
A new roof is a wise investment in your home's future. It will protect your home and family from the elements, improve energy efficiency, and add value to your property. We are dedicated to providing reliable, high-quality roofing services to homeowners in Chesapeake, Suffolk, Norfolk, and the surrounding areas. Contact us today to schedule a free consultation and learn more about our roof replacement services.