A wet ceiling is an indicator of potentially harmful roof damage.
Call the Virginia Beach roofing experts at Gilpin Roofing to address this issue and ensure your home is safe and sound for your family.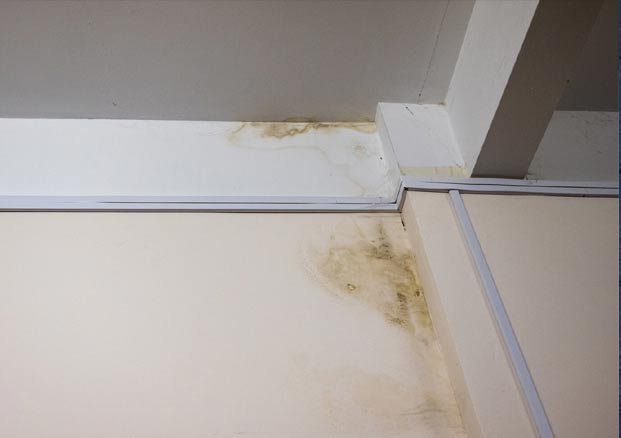 What Are Wet Ceilings?
Have you ever noticed a damp patch on your ceiling? This means that moisture has accumulated, spelling danger for the structural integrity of your home or business. Wet spots do not immediately mean there is danger, but rather there could be if left unattended. We strongly recommend you contact Gilpin Roofing for a consultation if there are any signs of dampness in your ceiling.
What Causes Wet Ceilings?
Wet ceilings are most often caused by a build-up of condensation. However, leaky pipes or gaps in your roof's surface could also lead to moisture entering your ceiling. If you have some exterior exposure, more moisture is getting into your home with each rainstorm or other precipitation cause.
Some of the most common causes include:
Roof Leaks
We often see the cause of wet ceilings from a leak in the roof. This can occur due to missing or damaged shingles, cracks in the roof, or improper flashing installation.
Plumbing Leaks
This could result from leaking pipes, faucets, or water heaters can cause water to seep into your ceiling.
Condensation
In areas with high humidity, condensation can form on the ceiling, leading to water damage over time. Virginia Beach is considered a subtropical climate, meaning there is a potentially higher humidity risk than other areas.
HVAC Leaks
Improperly installed or maintained air conditioning units or heating systems can lead to leaks that cause water damage. Over time, these leaks could build to the point of pooling. If left untreated, the pools of moisture will cause damp spots that could eventually burst and cause further water damage throughout your home.
Natural Disasters
Heavy rain, floods, or storms can cause water to seep into your ceiling and cause damage. Virginia Beach is an area exposed to hurricanes. Depending on the category of the hurricane, heavy rains could seep into your ceiling and cause potentially damaging water buildup.
What Does a Damp Patch Look Like?
The most common sign of wet ceilings is what is referred to as a "tidemark," or an area highlighted by discoloration. If there are areas with a brown or darker tone, there is likely some form of moisture caused by water soaking from above or through a leak. This could affect the underlying plaster beneath your roof. It could be the result of a poor seal. There is also the possibility of water leaking from some internal component of your home. Leaky pipes, whether through an internal plumbing issue like a radiator or water heater, could spread to the ceiling depending on the pipe flow.
Warning Signs of Wet Ceilings
Some of the most common causes include:
Water Stains
The most obvious sign of a wet ceiling is water stains or discoloration on the ceiling.
Sagging Ceiling
If your ceiling is sagging, this can be a sign of water damage and should be addressed immediately. Sagging ceiling spots could burst and cause the entrapped water to spill onto other areas of your home.
Musty Odor
A musty or moldy smell can be a sign of mold growth, which can occur due to water damage. Mold exposure is dangerous to home inhabitants and could be undetectable for months.
Peeling Paint or Wallpaper
If your paint or wallpaper is peeling, this can be a sign of water damage.
Dripping Water
If you notice water dripping from the ceiling, this is a clear sign of a leak and should be looked at immediately. What may seem like a temporary leak could cause more issues. Even if you stop dripping water, the water could slowly seep into areas you can't see.
How to Fix Wet Ceilings
Fixing a wet ceiling depends on the cause of the problem. Some possible solutions include:
Roof Repairs
If the cause of the wet ceiling is a roof leak, you will need to repair the roof. This may involve replacing missing or damaged shingles or repairing cracks in the roof. The experts at Gilpin Roofing are well-versed in these areas and can restore your Virginia Beach roof to its normal condition.
Plumbing Repair
Leaky pipes or fixtures will need to be addressed quickly if determined to be the root of your wet ceilings. If left untreated, these leaky water fixtures could build up and cause an abundance of water in a specific area.
HVAC Repair
Your HVAC unit is an essential component of your home. An overworked unit could be the cause of your damp ceiling issues. You will need to repair or replace the unit if we determine it to be the source of the leak. This also depends on the layout of your HVAC and its pipe connections throughout your home.
Condensation Control
Condensation can accumulate over time. You will need to take steps to reduce humidity levels in your home, such as using a dehumidifier. Insulation is another key factor here. The Gilpin Roofing experts can assess your home's condensation levels and provide solutions to regulate the condensation so you can avoid future buildup.
Water Damage Restoration
In some cases, the damage caused by a wet ceiling may be too extensive, and you may need to hire a professional restoration company to repair the damage. This is normally a last line of defense. With Gilpin Roofing's care, you can avoid the problem getting to this state.
How to Fix Wet Ceilings
Our Virginia Beach roofers have seen it all. Our roof repair cost is flexible and we offer multiple payment options. Contact us for a free quote before your wet ceilings turn into a bigger problem.