If your home has missing shingles, you should get your roof looked at. Contact the experts at Gilpin Roofing for a free quote. We can help restore your Virginia Beach home's roof to its normal condition.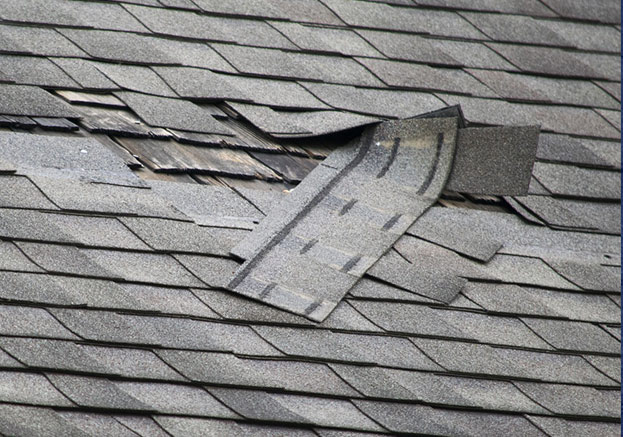 Missing Shingles – Causes, Solutions, Prevention,
and More
A missing roof shingle may seem minor but can lead to big problems if not addressed quickly. In this article, we'll discuss the causes of missing roof shingles, the solutions to fix the problem, and the services available to help homeowners.
Get a Roof Repair Quote in VirginiaBeach
Ceiling skylights are an excellent addition to any home or building, allowing natural light to flood in and creating a bright, airy atmosphere. However, they can quickly become a source of frustration and damage when leaking. In this article, we'll discuss skylight leaks, including how they form, the damages that can happen, ways to prevent leaks in your skylight, and how to fix them and any signs of dampness in your ceiling.
Causes of Missing Roof Shingles
Several factors can cause a roof shingle to become dislodged or missing altogether. Here are some of the most common causes:
Wind Damage
High winds are one of the leading causes of missing roof shingles. Strong gusts of wind can lift and break shingles, leaving gaps in your roof.
Aging Shingles
Over time, shingles can become brittle and lose their ability to hold up to the elements. When this happens, shingles can break and fall off, leaving your roof exposed
Poor Installation
If shingles are not correctly installed, they can quickly become dislodged or loose.
Hail Damage
Hail can cause significant damage to a roof, including dislodging or breaking shingles.
Tree Limbs
Tree limbs that hang over your roof can cause damage to shingles when they rub against them. They can also fall on your roof during a storm, causing shingles to become dislodged.
Solutions to Fix Missing Roof Shingles
The solution to fixing missing roof shingles will depend on the extent of the damage. Here are some possible solutions:
Replace Missing Shingles
The most common solution to fix missing roof shingles is to replace the missing shingles. If only a few shingles are missing, it may be possible to replace them yourself. However, hiring a professional is best if a significant portion of your roof is missing shingles.
Repair Damaged Shingles
If your shingles are damaged but not missing, it may be possible to repair them. A professional roofer can assess the damage and determine if repair is an option.
Full Roof Replacement
In some cases, a total roof replacement may be necessary. This is typically the case if the roof is old and has significant damage or if a large portion is missing shingles.
Services Available to Fix Missing Roof Shingles
If you're dealing with missing roof shingles, several services are available to help you address the problem. Here are some of the most common:
Roofing Contractors
Professional roofing contractors are equipped to handle all roofing repairs, including missing shingles. They can assess the damage, recommend a solution, and complete the repairs for you.
Insurance Companies
If the damage to your roof is covered by your homeowner's insurance policy, your insurance company can help you find a contractor to fix the problem. Gilpin Roofing works directly with your insurance company to ensure the covered repairs get done correctly.
Home Improvement Stores
If you prefer to tackle the repair yourself, home improvement stores offer various roofing materials and tools to help you get the job done. However, we strongly recommend hiring a roofing company for safety reasons and to guarantee the quality of work.
Prevention of Missing Roof Shingles
The best way to avoid missing roof shingles is to take preventative measures. You can take multiple steps to mitigate damage to your roof and shingles.
Regular Inspections
Regular roof inspections can help you spot potential problems before they become more significant. Inspect your roof twice a year, in the spring and fall. The crew at Gilpin Roofing can conduct routine roof inspections to check for missing shingles and provide maintenance as needed.
Trim Tree Limbs
If you have trees that overhang your roof, trim back the limbs to prevent them from rubbing against your shingles or falling onto your roof. If left unchecked, debris can fall onto your roof and dislodge shingles. Tree material can deteriorate your shingles over time.
Replace Aging Shingle
If your shingles are aging and showing signs of wear and tear, replacing them before they become a bigger problem is best. Check for cracks, discoloration, chipped pieces, and lifts for signs of aging.
Professional Installation
Ensure that your shingles are installed correctly by hiring a professional roofing contractor. Luckily for Virginia Beach residents, Gilpin Roofing has lots of experience installing shingles and conducting preventative maintenance and inspections.
Storm Preparation
Virginia Beach is no stranger to storms. If there is a strong weather advisory, take precautionary steps to protect your home's roof. This can mean trimming limbs, replacing missing or loose shingles before the storm to avoid pieces blowing in the wind, and more.
How Much Does it Cost to Repair or Replace Missing Shingles?
Roof repair costs can vary depending on the size and severity of the damage. For example, a total replacement is more expensive than replacing a few shingles here and there. Our Virginia Beach roofers can provide a free quote after inspecting your roof. This quote includes transparent, upfront pricing. We have competitive pricing and flexible payment options available. Don't let costs keep you from protecting your home and getting the necessary repair work.
Why Should You Trust Gilpin Roofing?
With over 21 years of experience, Gilpin Roofing is committed to servicing Virginia Beach residents. We are GAF Master Elite Certified, provide clients with a 25 Year Workmanship Warranty, and are owner-operated, and certified installers.
Get Missing Shingles Replaced withGilpin Roofing.
Don't go another day with missing shingles. Contact Gilpin Roofing to schedule an inspection and get a free, no-obligation quote. We recommend replacing missing shingles before becoming a much more significant issue.