Flat Roof Repairs at Competitive Rates.
If you're having issues with your roof, you need to get them repaired as soon as possible. Ready to get started? Get a free estimate from our experts at Gilpin Roofing.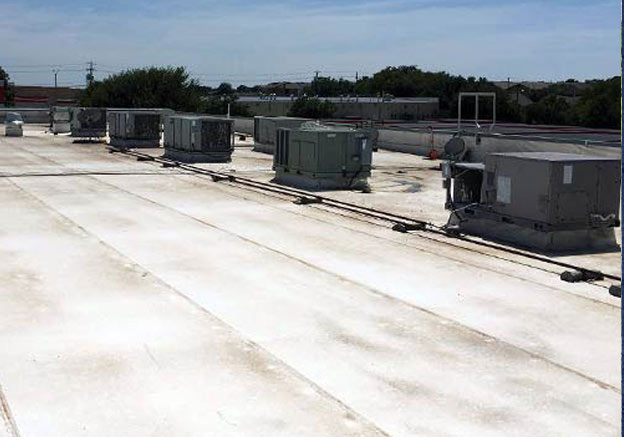 Flat Roof Repairs at Competitive Rates in Virginia Beach, VA
Gilpin Roofing Offers Competitively Priced Flat Roof Repairs to Homeowners in Virginia Beach, VA.
Schedule a Free No-Obligation Roof Inspection
A damaged roof can cause severe leaks and threaten the structural integrity of your property. If you're having issues with your roof, you must get them repaired as soon as possible. Ready to get started? Get a free estimate from our experts at Gilpin Roofing.
Flat Roofs
Flat roofs are popular because of their affordability, durability, and energy efficiency. However, maintaining a flat roof can be tricky, especially regarding leaks. Flat roof leaks can lead to significant damage if left untreated.
Reasons for a Flat Roof Failing
Roofs can fail for many reasons, including wind and storm damage. Damage can also be caused by falling objects, missing shingles or tiles, deteriorated flashings, or a faulty drainage system. The roofing specialists at Gilpin Roofing are among the most experienced roof technicians in the industry. The company owner checks our roof repairs to meet our exemplary standards.
When you call, our expert roof technicians will inspect your roof to see what's causing the leak and tell you what we'll do to fix it. With more than two decades of experience in the trade, no roof repair is too difficult for us to improve. Whatever the extent of the leak or damage to your roof, we can help. Please give us
a call today at (757) 363-8802 to find out how.
Causes of Flat Roof Leaks
Flat roof leaks can be caused by several things, including:
Poor Installation
A poorly installed flat roof will be prone to leaks. For example, water could seep through if the roof membrane is not sealed correctly.
Deterioration Due to Aging
Over time, flat roofs can deteriorate and lose their effectiveness. Aging roofs might develop cracks, holes, and other damage that can lead to leaks.
Weather Conditions
Extreme weather conditions, like storms, heavy rain, snow, and wind, can damage flat roofs and cause leaks.
Maintenance Issues
Lack of maintenance could lead to flat roof leaks. Leaves, debris, and other objects can accumulate on the roof and clog the drainage system. This causes standing water that can seep through the roof.
Foot Traffic
Flat roofs accessible to foot traffic can also be a source of leaks. Frequent foot traffic can cause damage to the roof membrane, leading to problems.
Mechanical Damage
Damage like punctures, cuts, and tears can lead to flat roof leaks. This can happen during roof repair or installation or due to falling objects damaging the roof.
Signs of Flat Roof Leaks
Spotting flat roof leaks early is essential to prevent further damage.
Some of the signs of a flat roof leak include:
Water Stains
Water stains on your ceiling or walls indicate a leak. These stains are usually brown or yellow, and their location will show where the leak originated.
Damp Spots
Damp spots on your roof can also signify a leak. These spots are usually darker in color and might feel wet or moist to the touch.
Mold or Mildew
Mold or mildew growth on your roof or inside your home can indicate a leak. These growths thrive in damp environments and can be a health hazard if left untreated.
Blisters or Bubbles
Blisters or bubbles on the roof membrane can also indicate a leak. These bubbles are usually caused by trapped moisture, and they can weaken the roof membrane over time.
Unpleasant Odors
Nasty odors in your home can also be a sign of water ingress. These odors are usually caused by mold or mildew growth and can be hazardous if left untreated.
Flat Roof Leak Repair Options
There are several options for repairing flat roofs, including:
Patching
Patching is a common and cost-effective method of repairing a flat roof. This involves putting a patch over the damaged area to seal the leak.
Coating
Coating involves applying a sealant layer over the entire roof to prevent leaks. This method is effective for roofs with minor damage and can significantly prolong the roof's life.
Replacement
If your flat roof is severely damaged, it may need to be replaced. This involves removing the old roof and installing a new one.
Flat Roof Repair Cost
How much a flat roof repair costs will depend on the damage's extent and the project's scope. If you want the job done well, it's essential to choose a reliable and experienced contractor like Gilpin Roofing. We're competitively priced, and we offer zero-down financing options, with approved credit.
Why Our Customers Choose Us
When you choose Gilpin Roofing, you get more than 20 years of experience and the best customer service. We only partner with premium manufacturers who produce high-quality materials. Reliable, experienced roofing technicians carry out every job we do.
• GAF Master Elite Certified
• Competitive pricing
• Fully licensed, bonded, and insured
• Industry-leading 25-year warranties
• Zero-down finance options
• Top-quality materials from premium manufacturers
Get Affordable and Professional Flat Roof Repairs
Repairing flat roofs is not a DIY project. It requires specialized knowledge and the right tools to complete the job correctly. Our trusted team is equipped with the latest technology and tools to provide you with the highest quality service.
We use only the best materials and products to ensure your roof lasts for years. Call Gilpin Roofing today at (757) 363-8802 to book a free no-obligation inspection and quote.