Gilpin Roofing, a Virginia Beach roofing company, has built its outstanding reputation with its quality work fixing various other roofing problems throughout Virginia Beach, Chesapeake, Norfolk, Portsmouth, Hampton, Suffolk, and Newport News since 1997.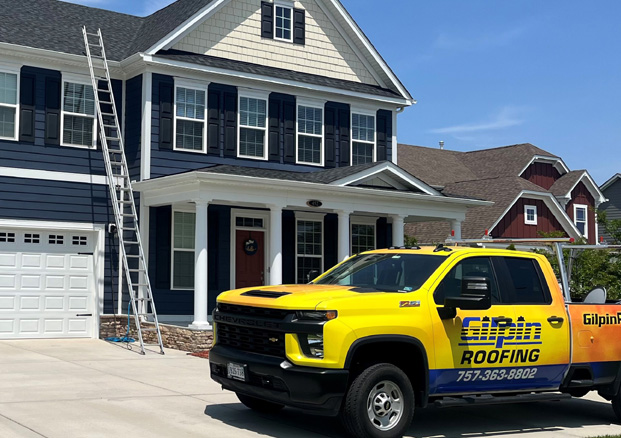 Gilpin Roofing – Service Areas
The roofing contractors with Gilpin Roofing specialize in roof repair and new roof installation for homes and businesses in Virginia Beach, Chesapeake, Norfolk, Portsmouth, Suffolk, and surrounding areas! Each of our contractors has extensive experience fixing roofing issues, including moisture problems and structural problems.
Gilpin Roofing can prevent water from getting in your home, fix missing shingles, repair skylight leaks, repair bad flashing, fix leaking dormers and pipe collar leaks, and replace rotten roofing and flat roof leaks. Our contractors are experts in the industry and well-equipped to handle your roofing issues. Learn more about our services below!

Did you know?
We are a licensed GAF Factory-Certified Contractor offering homeowners and business owners the best warranties. See, Gilpin Roofing is a GAF Master Elite® Roofer
Roof Replacement
Roof Replacement Virginia Beach VA
Roof Replacement Chesapeake VA
Roof Replacement Norfolk VA
Roof Replacement Portsmouth VA
Roof Replacement Suffolk VA
Roof Repair
Roof Repair Virginia Beach VA
Roof Repair Chesapeake VA
Roof Repair Norfolk VA
Roof Repair Portsmouth VA
Roof Repair Suffolk VA
Multi-Family Roofing
Multi-Family Roofing Virginia Beach VA
Multi-Family Roofing Chesapeake VA
Multi-Family Norfolk VA
Multi-Family Portsmouth VA
Multi-Family Suffolk VA
Commercial Roofing
Commercial Roof Repairs Virginia Beach VA
Commercial Roof Repairs Chesapeake VA
Commercial Roof Repairs Norfolk VA
Commercial Roof Repairs Portsmouth VA
Commercial Roof Repairs Suffolk VA
Skylight Repair & Replacement
Skylight Repair & Replacement Virginia Beach, VA
Skylight Repair & Replacement Chesapeake VA
Skylight Repair & Replacement Norfolk VA
Skylight Repair & Replacement Portsmouth VA
Skylight Repair & Replacement Suffolk VA