Skylight Repair & Replacement Virginia Beach VA
We offer all the skylight repair and replacement services you need in one place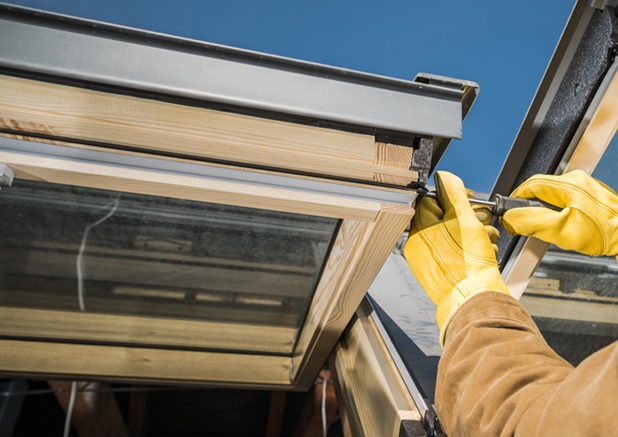 Skylight Repair & Replacement Virginia Beach VA
Skylight Replacement in Virginia Beach VA
Is your skylight old or leaking? Contact us for professional skylight replacement in Virginia Beach.
Get a New Skylight for Your Home
Skylights are an excellent way to let natural light into your home while also adding a touch of elegance and sophistication. However, over time, they can begin to leak if they are not properly maintained, and this can cause severe water damage. At Gilpin Roofing, we understand the importance of natural light in your home.That is why we offer all the skylight repair and replacement services you need in one place. Whether you need to replace an existing skylight or install a new one, our team is here to help. We offer fast, reliable service and exceptional warranties for all our work and can even help you get affordable financing. If you are ready to get a new skylight in Virginia Beach, give us a call today.
All the Skylight Repair and Replacement Services You Need
We offer a full range of skylight leak repairs and skylight window replacement services. Our experienced team can handle any skylight, regardless of its size, shape, or style. We also offer a wide range of styles from all the top manufacturers and would be happy to help you select one that matches your home and your budget. We work with commercial and residential clients in the Virginia Beach Area.
Signs You May Need to Replace Your Skylight
Skylights are an amazing feature for any home and are a great way to brighten up dark spaces. However, they typically only last about 8-15 years before you need to replace them. Additionally, new skylights are more energy efficient and durable than older models. Here are some signs that you need to replace your skylight:
Leaks or water damage around your skylight
Cracks or other damage to your skylight
Your skylight is outdated or no longer matches your home's style
Your skylight is no longer energy efficient
You need to replace your roof
If you are unsure whether your skylight needs to be replaced or repaired, give us a call. We can help you determine the best course of action.
Why Choose a New Skylight?
There are many great reasons to invest in a new skylight at your home or business. In addition, you should always replace a skylight if you are replacing your roof. Not only will replacing your skylight save you money, but it will also help protect your home, as the roof replacement process can damage your existing skylight. Keep reading to learn more great reasons to consider a new skylight.
Save Money and Protect Your Home
Old, outdated skylights can be a major source of energy loss in your home. By replacing your old skylight with a new, energy-efficient model, you can save money on your energy bills while protecting your home from leaks and other damage.
Reduce the Risk of Leaks
Leaking skylights can cause extensive damage to your home, including water damage and mold growth. By replacing your old skylight with a new one, you can reduce the risk of leaks and protect your home from costly repairs. It can also reduce the risk of mold forming in your home due to water damage.
Upgrade the Curb Appeal of Your Home
A new skylight can add a touch of elegance and sophistication to your home, improving its overall curb appeal. It also gives you a chance to choose a skylight that matches your new roof if you are replacing both at the same time.
Boost Your Home's Value
A new skylight is a great way to increase the value of your home. Whether you are planning to sell your home soon or simply want to improve its overall value, a new skylight is an excellent investment.
Need a New Skylight? We Offer Affordable Financing
We understand that replacing a skylight can be a significant investment. That's why we offer affordable financing options to help make the process more manageable for our clients. Our financing plans are flexible and tailored to your specific needs and budget.
Get a 25-Year Workmanship Warranty
When you choose the team at Gilpin Roofing, you know you are in good hands. We stand behind the quality of our work and the products we use. That's why we offer a 25-year workmanship warranty on all skylight installations. We are committed to providing our clients with the best possible service, and this includes ensuring that their skylight looks and functions perfectly for years to come. In addition to our exceptional warranties, we bring more than 21 years of experience to every job and are licensed and insured.
How Our Skylight Repair Services Work
Step 1: Getting Started
Contact us to schedule an appointment for a comprehensive skylight inspection. During your skylight inspection, we will assess the condition of your skylight and provide you with an estimate for repair or replacement.
Step 2: Fast Repair
If we can repair your skylight, our team will get to work right away. If not, we will help you choose the perfect skylight for your home. Once you have chosen your new skylight, our team will begin the installation process.
Step 3: Love Your Skylight
After we have installed your new skylight, you can enjoy all the benefits of this beautiful addition to your home. Contact us today to request a free quote.
How Much Does Skylight Replacement Cost in Virginia Beach?
The cost to replace a skylight in Virginia Beach will depend on various factors, including the size and style of the skylight, the materials used, and the complexity of the installation process. However, we offer honest, transparent pricing and will provide a detailed estimate before we begin work.
Upgrade Your Skylight in Virginia Beach Today
If you need skylight repair or replacement services in Virginia Beach, we are here for you. We serve families in Virginia Beach, Norfolk, Chesapeake Bay, and the surrounding areas. Contact us today to schedule an estimate on all our services.